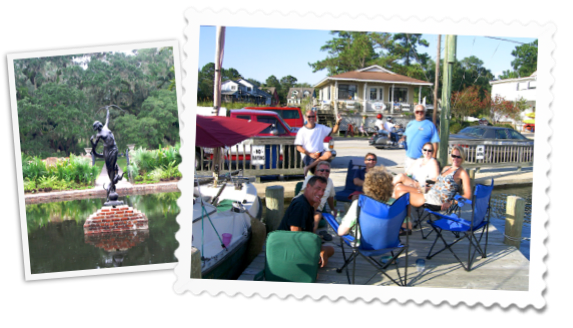 Welcome to the web log of Leg 4 of the Great Loop Cruise of Patrick and Mary Fowles in our 25' C Dory Cosmic C. After preparing for -- and thoroughly enjoying -- our daughter Courtney's Wild West wedding in Texas, we returned to Charleston on August 27, 2007 to begin Leg 4. We stopped for a month in Annapolis, MD before ending this leg on October 14 at Cutter Marine on the Middle River just north of Baltimore.  
Please navigate to the route map, the pictures, the movies, and the log entries for Leg 4 by clicking on the appropriate hierarchical menu at the top of the page.
Since we bought the Cosmic C at Cutter Marine and took her to the St Lawrence by water, we have technically now completed the Great Loop. But our Great Loop odyssey did not really start until we left our island in August 2006, and so we will end our journey at Pine Tree Island in the spring of 2008, when we complete the final Leg 5.