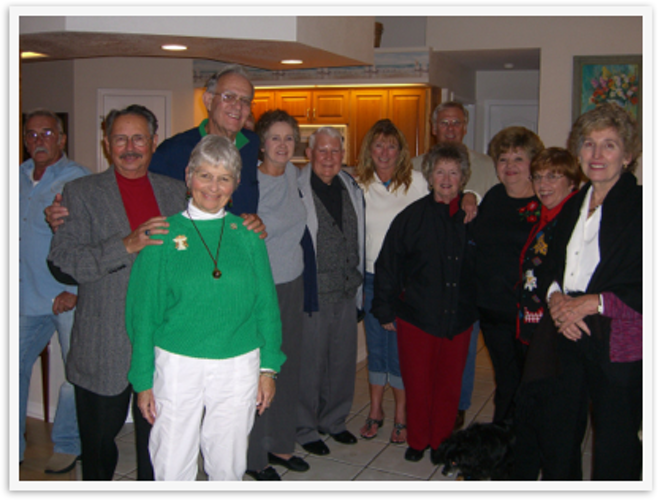 Demopolis to Pensacola
Wednesday morning dawned with heavy fog, so we couldn't get an early start. We delayed even longer in order to watch Freddy Freddy being launched. Nevertheless we reached Bobby's Fish Camp early in the afternoon. We had been looking forward to eating catfish at Bobby's restaurant but were disappointed to find that it was open only on Thursday thru Saturday at this time of year. Spent the late afternoon writing Christmas cards. Late at night, tows rocked us as they passed by, flashing super bright searchlights back and forth to light their way. 
On Thursday we had an easy run down to Mobile but then ran into rough water in Mobile Bay as we headed down to Grand Mariner Marina on the Dog River. A front came through with its rising winds, dropping the temperature from the seventies we had been enjoying to the forties and low fifties. Friday was sunny but windy, so we spent the day doing errands and touring Mobile.
The wind abated on Saturday, the sunshine (and chill) continued, and we had a enjoyable run down the bay and into the Gulf Intercoastal Waterway. Shortly thereafter we saw our first dolphin. After stopping for lunch at LuLu's (owned by Jimmy Buffett's sister), we headed up Perdido Bay to visit Bob and Marie Austin. We had never met them before but had corresponded occasionally on both the C Dory and Great Loop web sites, and they had invited us to stop by and stay at their dock. What hospitality they showered upon us! They invited us to the neighborhood party they were throwing that night, insisted that we borrow one of their cars for the next couple of days in order to visit our friends Bob and Eneida Smith who live nearby, and regaled us with many stories of their transatlantic cruising experiences. Thank you so much, Bob and Marie.
It was great fun bringing our friendship with Bob and Eneida up to date and seeing Pensacola and its surroundings with them. We were especially keen to hear about their sons Phil (in Iraq) and Mark (in Paris) and their families. We dined at McGuires, where the ceilings in the many dining rooms are covered with over $700,000 of signed dollar bills. Thank you too, Bob and Eneida, for your hospitality. 
Meanwhile, another cold front came through, the sun continued to shine, but the temperature still struggled to reach the fifties during the day. Our visit to the Naval Aircraft Museum was well timed!