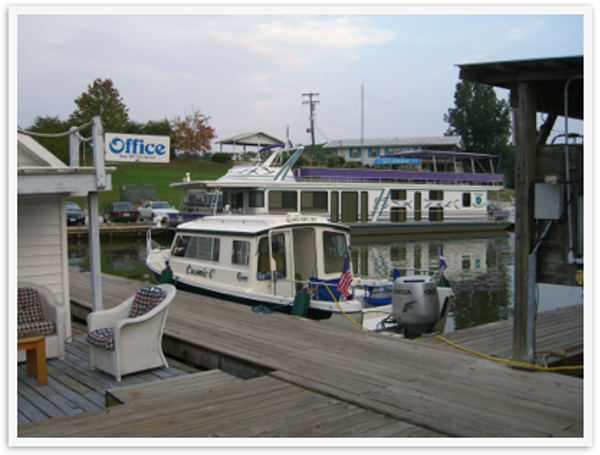 End of the First Leg 
After a beautifully calm evening at anchor behind Angelo Towhead Island at the junction of the Ohio and Mississippi Rivers, we turned up the Ohio and found tow after tow nosed into the bank, waiting to proceed.  The cause soon became apparent: the larger of the two chambers at Lock 52 on the Ohio was closed for maintenance, and the resultant reduction in capacity was causing huge delays in the commercial traffic.  Luckily, after three hours, the lock master squeezed us through, "squeezed" being the operative word.  The huge tow waiting to enter the lock had nosed right up to the gates, and leaving us only inches to spare as we squeezed our way out into the channel.
We then turned into the Cumberland River, stopping for the night at the Green Turtle Bay Marina and dining at Patti's. (Yes, we ordered her famous marinated pork chops, which were good for another two meals on the boat.) In the morning we used the marina's courtesy van to visit Paducah. It was early, but we enjoyed eating breakfast with the locals and poking around the town. The center of town is well preserved, and  the sea wall along the river is graced with murals depicting the history of Paducah and the surrounding area.  Back on the boat, we crossed the sparkling waters of Barkley and Kentucky Lakes, where we encountered the Mississippi Queen sternwheeler, and then followed the Tennessee River south between limestone cliffs and wooded banks.  After anchoring for another night, we stopped early in Clifton, Tennessee, lured by local radio advertisements for the 24th Annual Horseshoe River Bend Music Festival.  We swayed to the Kentucky Headhunters and other bands, downed fried catfish and hushpuppies, watched a wrestling bout (talk about theater!), and wandered through stalls selling all sorts of Southern memorabilia.
The next day we headed for the Midway Marina on the Tenn-Tom Waterway near Fulton, MS, where we will be leaving the Cosmic C until we return in November to continue the Great Loop.  Thanks to remarkably good luck with the locks, we arrived in the early evening to a very friendly Midway reception.  We enjoyed meeting Eileen and Sophal Thai, who have been living and cruising on their Jefferson 37 for the past five years, and Dennis Henderson, who has cruised 20,000 miles, including the Great Loop and up the East Coast to Nova Scotia. After seeing Dennis's little Boston Whaler (only 17 feet and totally open), our 25-foot C-Dory no longer seems small for long-range cruising!