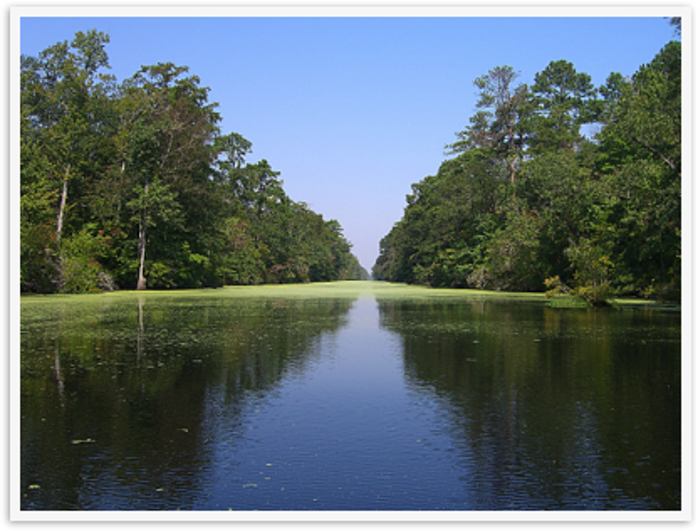 Beaufort, NC to Norfolk, VA
We enjoyed our stay in Beaufort, NC, another picturesque fishing town where we chatted with several other boaters, including another UK/US couple who live year round on their sailboat at the Beaufort dock and Bryan and Ronda Sickels, who were visiting for a few days on their Osprey 24 Overcurrent II. Since NOAA had warned that the Pamlico Sound would be rough on Sunday but much calmer on Monday, we lazed away Sunday morning updating this web site and waiting for the North Carolina Maritime Museum to open at 1:00 p.m. After an interesting hour in the museum, we headed north again, hoping to reach Oriental, NC or anchor just before the Neuse River crossing if the Sound proved too rough. Well, the Sound was rough, but we were almost half way across before it became uncomfortable with 5-foot waves, and so we carried on.
Oriental is a delightful little place. Non-touristy and friendly. Lots of shrimp boats and sailboats. We arrived just in time to claim the last berth at the village dock, encouraged by Jim Burke and his sailing mate Wayne Guarisco to squeeze in behind Jim's Nimble 20 yawl Belladonna. Soon we were sitting on the dock with Jim, Wayne, and local resident Paul, enjoying the margaritas, hasty hors d'oeuvres, and local culture. Before long, we were joined by two other couples, and a merry little party it became. We followed this lively start to the evening with a fine meal at Steamers Restaurant and a popular Country Western band playing near the dock. Only the relentless drone of a generator on a big motorboat marred our stay in Oriental.
After coffee and muffins in The Bean, a small, laid-back coffee shop opposite the dock, we headed north again early Monday morning. The Pamlico Sound was much smoother than the Neuse River had been yesterday and the Albemarle Sound was almost flat calm; we cruised the 133 miles to Elizabeth City, NC in seven hours. Along the way we stopped to offer help to a 35-ft cruiser that had hit a deadhead in the Alligator Canal and was starting to sink. Since another boat had already stopped and the Coast Guard was on the way, they told us to not to wait. Those tree stumps are a serious threat!
Monday evening we pulled into Elizabeth City, home of the Rose Buddies who used to meet each new arriving boat with a rose, wine, and cheese. It's a friendly town, with several free slips on the waterfront. But the slips are long and narrow, boats have to back in between poles, and the wind was blowing directly into the slips -- making it tricky to dock a small boat like the Cosmic C, whose engine is the first thing to hit going backwards. So we moored at the dock of nearby Groupers restaurant, where the manager said we were welcome to stay  for a couple of days. We dined at Groupers that night as a "Thank You."
On Tuesday we rented a car and explored the Outer Banks, stopping at the Wright Brother's National Memorial, the beach at Nag's Head (Condo City), and Mateo on Roanoke Island.  We visited the Roanoke Island Festival Park and its replica of Elizabeth II, one of the vessels Sir Walter Raleigh sent to the New World in 1585. On the way home we stopped at a laundromat in Edenton, inaccurately billed as North Carolina's prettiest village.
On Wednesday we cruised through the Great Dismal Swamp to Norfolk, VA. The Dismal Swamp Canal is beautiful, and this time of year the duck weed is so thick that the boat seems to be moving down a solid green highway. We didn't see any more alligators, but a water moccasin bared its fangs at us. Waiting for the Deep Creek Lock to open, we escaped the heat and slaked our thirst at a colorful Mexican cantina right on the canal. Then, once in the Lock, we had fun chatting with the lock keeper, who serenaded us on his favorite conch shell. Another glorious day in cloudless sunshine.