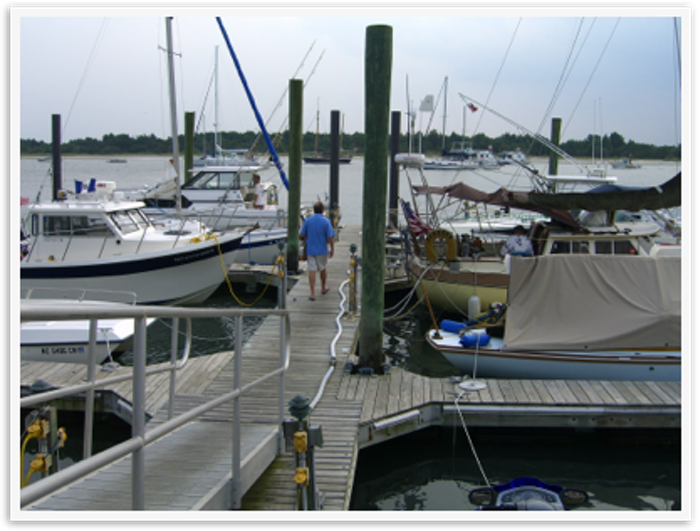 Isle of Palms to Beaufort, NC
Noah, our mechanic, arrived Thursday morning, installed the new thermostat, and declared us fit for further travel. Fingers crossed, we set off shortly after noon.  We stopped to visit historic Georgetown, the third oldest town in South Carolina, and enjoyed walking its wide, live oak-lined streets where almost every house dates back to the late 1700's. That night we anchored in Cow House Creek under threatening skies, but the evening remained calm, dry, bug-free, and beautiful.
It was a short run on Friday morning to the Wacca Wache Marina, where the managers kindly let us moor for several hours in order to visit nearby Brookgreen Gardens. Named for its founders and designers, the Archer and Anna Hyatt Huntington Sculpture Garden opened in 1931 as America's first public sculpture garden. The collection now contains over 1200 works spanning the entire period of American sculpture from the early 1800s to the present. A light rain was falling when we arrived, but not enough to dampen our enthusiasm for the spectacular gardens and fantastic sculptures. What a beautiful combination of art and nature!
After lunch at the garden's Pavilion restaurant, we cabbed back to the boat and continued on to Southport, where we again enjoyed walking around a historic small southern fishing town. Along the way we encountered our first alligator in the ICW and later found that the Southport Marina has its own resident alligator who patrols the docks and on hot days crawls under people's cars for shade.
Saturday weather's was calm. Since the ICW was wide and mainly free of no-wake zones, we cruised over 100 miles to arrive at charming Beaufort, NC, where we are currently moored.