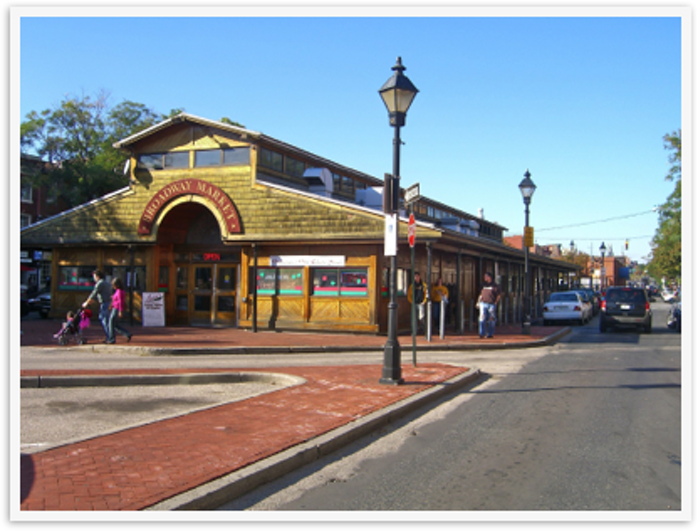 Annapolis, MD to the Middle River, MD
When we returned to Annapolis on Thursday, October 11, the US Power Boat Show was in full swing, and we had to wend our way among the crowds as we headed for dinner at the Cafe Normandy, a cozy little French restaurant on Main Street. Ellen and Drew arrived later that night, and on Friday we all breakfasted at the Boat Yard near the marina before walking on to the Boat Show. Mary had to return to the C to work for the afternoon, but the rest of us had a wonderful time exploring many of the boats on display. Not having $2.6 million to buy a Marquis 65, the most opulent boat we boarded, we agreed that our beloved Cosmic C fits us perfectly - no problem here with two-foot-itis (or 40-foot-itis in this case).
Friday was sunny but windy, and over a tasty dinner at Eastport's Rock Fish, we discussed what we might do on Saturday if the wind and waves did not abate as NOAA predicted they would. But NOAA was correct again, and the Chesapeake Bay was well behaved as the Cosmic C and Another Perspective cruised together to Baltimore, often weaving our way through groups of young sailors. We moored at the Inner Harbor East Marina, and were soon enjoying Bertha's mussels in Fell's Point, just a short walk away. After lunch we explored Fell's Point, a lively section of historic Baltimore before returning to the boats for some quiet time. In the evening, we joined Drew and Ellen on Another Perspective for drinks and hors' oeuvres and a wonderful view of Baltimore's skyline. Then we walked to nearby Little Italy and enjoyed dinner at Amici's, a traditional, family-owed Italian restaurant.
On Sunday morning we strolled around the waterfront to Harborplace and had breakfast on the 5th floor of the Radisson Hotel with a great view of Baltimore's Inner Harbor. Back at the boats, we said goodbye to Drew and Ellen, and they headed back down the bay to Annapolis while we headed north to Cutter Marine on the Middle River. We had left our station wagon at Cutter on the way down, and after loading it with everything we did not want to leave on the C for the winter, we were soon on our way home to Bucks County.