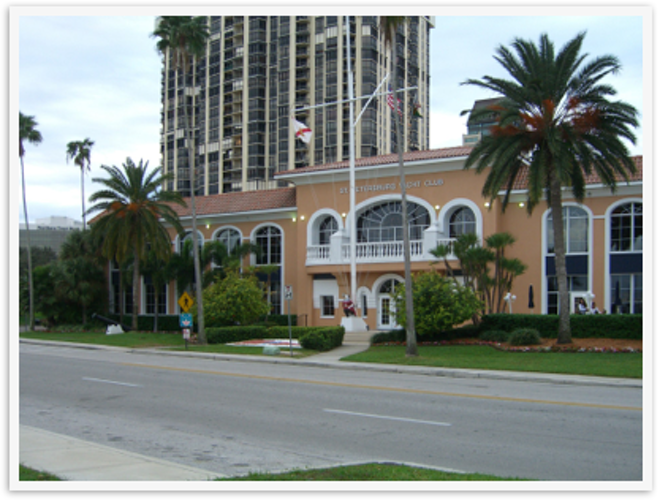 Steinhatchee to St Petersburg.
We timed our departure from Steinhatchee on Sunday so we would arrive at Suwannee just before high tide. We knew the approach channel to Suwannee was shallow but were still surprised to find a depth of only 2 feet at one point. The fabled Suwannee River is, however, deep, wide, and unspoiled and we enjoyed exploring it for several miles before stopping for the night. No houses, and no "Old Folks at Home." The next morning we were off at dawn to catch as much of the high tide as possible, but this time we actually touched bottom as we followed the channel.
We stopped at picturesque Cedar Key and walked around town before continuing on to Crystal River. Despite its reputation, Crystal River seemed less clear than our own St Lawrence River and, although it is a haven for manatees, we saw none. Parts were unexpectedly shallow, and we touched bottom in King's Bay. In our effort to back out quickly, we ran into a crab pot, whose rope got tangled around our propellor. Adding insult to injury, the water tell-tale on our motor ceased flowing, possibly indicating a water pump failure. More than a little concerned, we anchored out, and at 7:30 a.m. on Monday morning the Cosmic C was lifted out of the water at the nearby Twin Rivers Marina for service. Fortunately, there was little damage, Justin put all to right and did our needed scheduled service to boot, and we were soon on our way again.
The next night we moored at the City Marina in Tarpon Springs, where we sampled Greek food and the local Greek culture. We also enjoyed walking through the Golden Crescent, a well-preserved collection of homes built by "wealthy Northerners" in the 1920s. 
On Tuesday we cruised to St Petersburg, where the we enjoyed staying at the Yacht Club. The facilities were first-rate, and we were even treated to a newspaper delivered to our boat every morning! Tuesday night our friends Eileen and Sophal Thai, whom we had met at the Midway Marina, drove over from Tampa, where they are living for the winter.  We enjoyed dining with them at Cerviche and then touring the town.
On Wednesday we rented a car and drove to Sarasota to tour the John and Mable Ringling Museum of Art and estate, now run by the University of Southern Florida. The world's largest circus model was fascinating, but the real jewels are the Ca d'Zan (the Ringling's Venetian home), the historic Asolo Theater (first constructed in Asolo, Italy in 1798 and reconstructed in Sarasota in 1948), and the Art Museum itself. Back in St Petersburg, we had a delightful evening dining at Cafe Alma and reminiscing with Nancy Vann, a neighbor of ours in Doylestown twenty years ago.