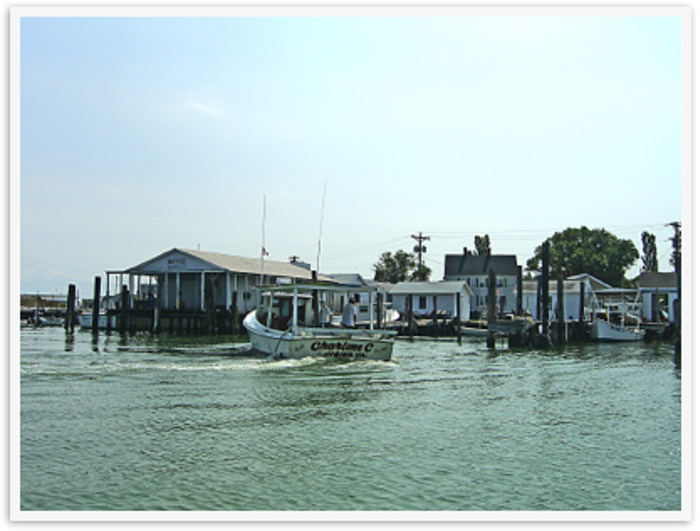 Norfolk, VA to Branson Cove, VA
Wednesday evening we docked at the Waterside Marina in the heart of Norfolk, VA, where we were greeted by cheery boaters attending the national meeting of the Power Boat Squadron. It was a lively place, with a busy crew of workers trying madly to finish renovations to a Hooters restaurant, whose sign read "Opening on Friday at 4:00 p.m." Every time we walked by, they assured us they'd make their deadline, despite evidence to the contrary, even as we left Friday morning. 
On Thursday we toured the U.S. Navy Museum and the Battleship USS Wisconsin at the Nautica Center, had a delightful lunch in the Freemason Abbey Restaurant (a restored old church), and walked around the nearby historic district. Thanks to a pleasant, well-informed docent (from Missouri), we enjoyed our tour of the Moses Myers house, a well-preserved 18th-century home. Because  everything was in such easy reach of the marina, we ferried across the river to see Portsmouth's historic district, which is grander than Norfolk's but, of course, no match for places like Charleston or Savannah.
That evening a sailor who had just arrived from the York River reported that the Chesapeake Bay was very rough, enough to make him wear his lifejacket during the trip. We wondered whether we should try only to make nearby Hampton on Friday, but the morning forecast from NOAA for calm seas proved correct and we cruised up the bay in comfort, reaching Onancock on the Eastern Shore shortly after noon. We had hoped to walk around and have lunch there, but all the slips had been reserved by boaters coming to the Onancock Festival that weekend. Disappointed at not being able to see this charming town, we left immediately for Tangier Island, where we had originally planned to stay overnight. It was still early afternoon, and the bay was starting to get a little rough, so we stayed on Tangier Island only long enough to get gas and walk from one end of the island to the other. Tangier is a weathered but picturesque crabbing and oystering community. Transportation is golf cart, scooter, or bicycle, the houses are mostly small, and many front gardens are filled with lawn statuary or old graves. We enjoyed our walk but were glad to be back on the water making for the Potomac River before the Bay became too rough. We anchored for the night in a protected bay off Branson Cove, behind Coles Point, VA. It had been a much longer day than originally planned, and we were really happy to relax and watch the sun go down over margaritas and one of Mary's wonderful onboard meals.