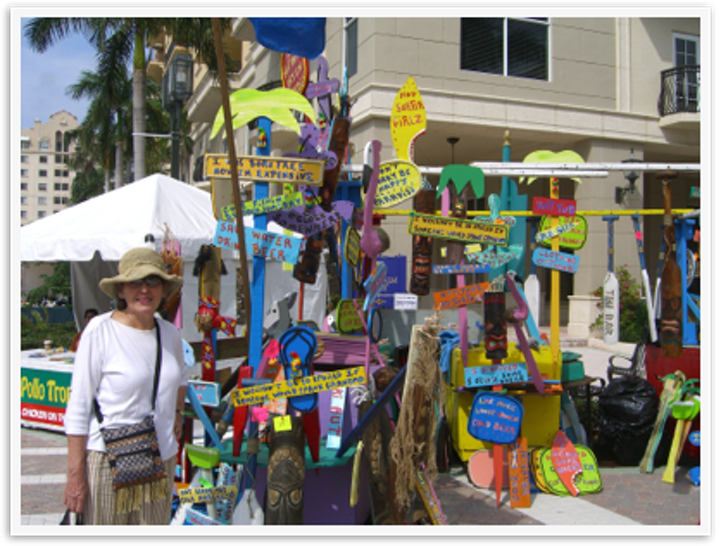 Lake Worth to Lighthouse Point.
On Thursday we cruised south on the ICW past enormous mansions, often with enormous boats moored at enormous docks, arriving midday at the Lighthouse Point Marina near the winter home of our friends Tom and Jodi Hall. Tom and Jodi also have a summer place on the St Lawrence River and have been with us on several trips organized by the Antique Boat Museum in Clayton, NY. They picked us up that evening and we renewed our friendship over steaks at a local steakhouse. 
On Friday we spent the morning and early afternoon shopping with Jodi and then were joined by Mike and Marilyn Formicola for a delicious dinner at the Halls. Mike and Marilyn used to own the Blind Bay Marina, where we keep our boat on the St Lawrence River and, like the Halls, return to Florida every winter.
On Saturday the Halls insisted that we borrow their car to explore Boca Raton, where we strolled through a large arts and crafts market and then visited the Boca Raton Art Museum. The museum was featuring two special exhibits, one on the life of Marilyn Monroe and the other Graham Flint's "Portrait of America: Images from the Gigapxl Project." The MM exhibit was interesting, if a little sad, and displayed many photographs and artworks rarely seen before. Flint's photographs were extraordinary. He developed a camera that produces ultra high resolution pictures that are then scanned, also at ultrahigh resolution, to generate files that produce incredibly detailed 5-ft by 10-ft prints. Two such prints particularly enthralled us: one a cyprus swamp with moss laden trees beautifully reflected in the still water, and the other a stunning five-panel panorama of the New York skyline at dusk.
In the afternoon we joined Tom and Jodi for drinks on their fabulous new (to them) 65-ft motor yacht Precious Lady, and then went with them to the condo of Tom's niece Heather Collver and her husband Chuck to watch the lunar eclipse. Their 16th floor, oceanfront condo was an ideal location to watch the eclipse; although clouds spoiled the best part of the show, we were excited to see the somewhat hazy final half-hour. Many thanks Chuck and Heather for letting us take over your living room and balcony.
Later, after a great dinner at a local Italian restaurant, we said farewell to Tom and Jodi. Thank you both so much for your hospitality. It was great to see you in your Floridian venue, and we look forward to getting together again soon at the river.