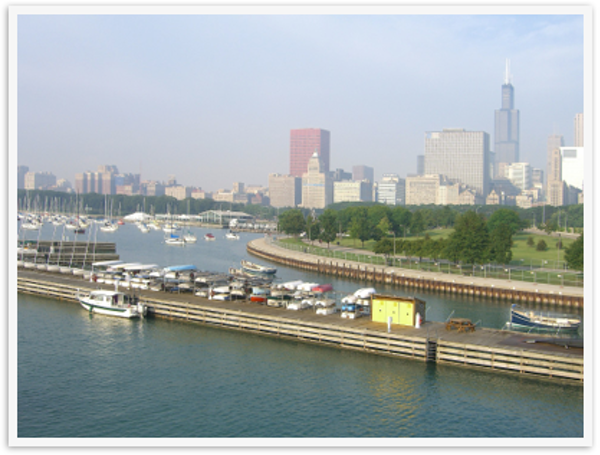 Charlevoix to Chicago
After a day's delay (high winds) in Charlevoix, we cruised down the east coast to Ludington, stopping at Historic Fishtown in Leland and the Victorian town of Manistee. On Wednesday morning the weather forecast was great for the next two days, so we decided to try to make Chicago by Thursday by taking the shorter route across the lake to Milwaukee and down the west coast. The lake was calm at first, but then, despite the forecast, gave us a rough time as we reached the middle, thirty miles offshore.  We thought we had made a mistake, but then the waves calmed again and all was well.
Highlights of Milwaukee were the Art Museum, where we spent a wonderful two hours while a thunderstorm raged outside (a portent of things to come!), and dining at Karl Ratch's, an old German restaurant.  Thursday dawned calm and we headed south, only to run for shelter in Racine as the thunderstorms flared up again, one of them perhaps the longest and most violent we've ever experienced.  So, instead of Chicago on Thursday, it was 24 hours at the Racine Sea Scout's dock.  The seas did not calm until Friday afternoon, and we managed to reach Chicago despite more thunderstorms in the area. We kept our eye on the weather radar and made a quick decision whether to continue at each port along the way.
Here in Chicago we are fortunate to be staying at the Columbia Yacht Club, thanks to a reciprocal agreement with our own Chippewa Bay Yacht Club in the Thousand Islands. A retired ocean liner serves as the club house and offers fantastic views of Chicago and its inner harbor.  We're even more fortunate to have an excellent tour guide -- our niece Anne Elizabeth, who is surely one of Chicago's keenest fans. Yesterday, we took the architectural cruise through the city, visited Millennium Park, and were introduced to her delightful neighbor-hood of Lincoln Square. Today, if we can get through the triathalon crowd, she's taking us to Oak Park, where we'll visit Frank Lloyd Wright houses and studio.