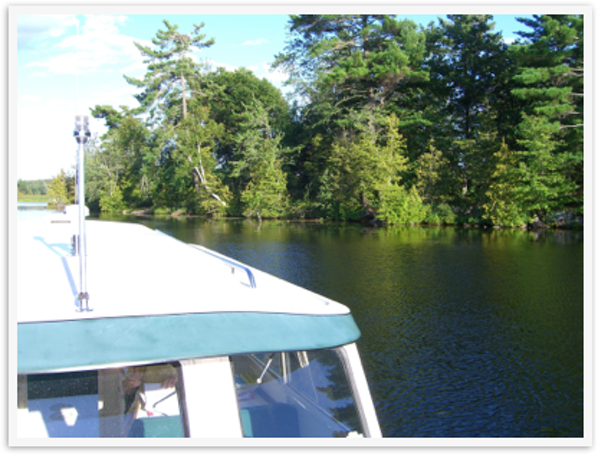 Campbellford to the Dinner Islands 
The past two days have brought endless sunshine, broken only by a brief sprinkle. Once again we were welcomed to our dock with a concert -- this time,  in Peterborough, Ontario. A comedic singing group entertained a large crowd, their songs charged with social satire. As we went to sleep in the boat, fireworks glittered in the sky overhead.  Ontario is starting to spoil us!
Today the Cosmic C, a few other boats, and all the passengers were lifted high in the sky by the engineering marvel of Peterborough Hydraulic Lift Lock (Google it to get a description). Then, much elevated, we cruised through beautiful lakes similar to the Thousand Island region of the St. Lawrence. Tonight we are anchored in a protected cove behind Dinner Island in Lower Buckhorn Lake.  As the sun was setting, a friendly couple came by for an evening chat on their pontoon boat. They love Missouri and have good friends in the Ozarks, so we had much to talk about. This is our first anchoring experience, and even though the water is dead calm, it remains to be seen how much sleep we will get tonight!