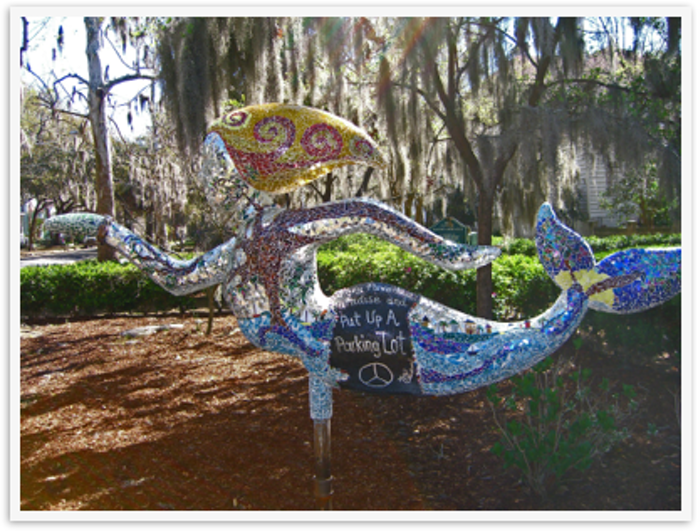 Moon River to Charleston, SC
We arrived in Savannah late Thursday morning, having stopped first at Thunderbolt Marine where we arranged to have the Cosmic C stored and bottom-painted while we returned home to attend to work and other commitments. All the marinas in the city and nearby were full for it was St. Patrick's Day weekend, and Savannah hosts a huge St. Patrick's day parade and celebration. We learned that boaters make reservations for this weekend a year in advance, but we were finally offered a spot for one night at the River Street Marketplace Dock when one such reservation was cancelled at the last minute. This dock is perfectly positioned for visiting Savannah, but unprotected from the wakes of all the tugs, huge freighters, and ferries that pass close by at all hours of the day and night. We were certainly rocked to sleep that night.
We love Savannah, and once again enjoyed strolling through the squares and parks of the city, where the azaleas were in full bloom. We visited the Thomas Owens house, had cocktails on the balcony at the Hyatt, and ended the day with a tasty meal at Bellfords.
We had to be out of our slip by noon on Friday, so after breakfast at Huey's and a leisurely stroll to visit Savannah's famous waving lady statue, we were off. Preparations for the weekend were in full swing, with barriers here, booths there, and sound stages with enormous amplifiers and speakers everywhere, so we were not sorry to have to leave what was evidently going to be a very loud and commercial celebration. We took the Cosmic C back to Thunderbolt Marine where we spent the afternoon packing, cleaning up, and generally preparing to fly home the following morning.
Saturday, St. Patrick's Day, was a day this Patrick would like to forget. We took a cab to the airport only to find our flight was delayed due to problems created by the big snowstorm which hit the northeast on Friday. After several hours the flight was cancelled. "When could you get us on another flight?" "Oh, maybe Tuesday, or perhaps Wednesday. And forget about a hotel room; every hotel is full because of St. Patrick's Day." So back to Thunderbolt Marine we cabbed, back to Tubby's restaurant for dinner we walked, and back on the loop we decided to go on Sunday, with Charleston as our new lay-over destination. Thunderbolt Marine was very gracious in scrapping our work and storage contract, and promptly returning our keys.
On Sunday we cruised north again, stopping for lunch and a stroll around Beaufort, and arriving in Charleston in time for a delicious dinner at Poogan's Porch. On Monday we took the boat to the Charleston Boatyard for storage and bottom painting, were driven by them to the airport (thank you!), and caught a flight home to the snow and ice of Bucks County.
So ended Leg 3 of our Great Loop cruise. We'll probably be back aboard the Cosmic C in early June, when Leg 4 will take us at least to the Chesapeake if not all the way back to the St. Lawrence.