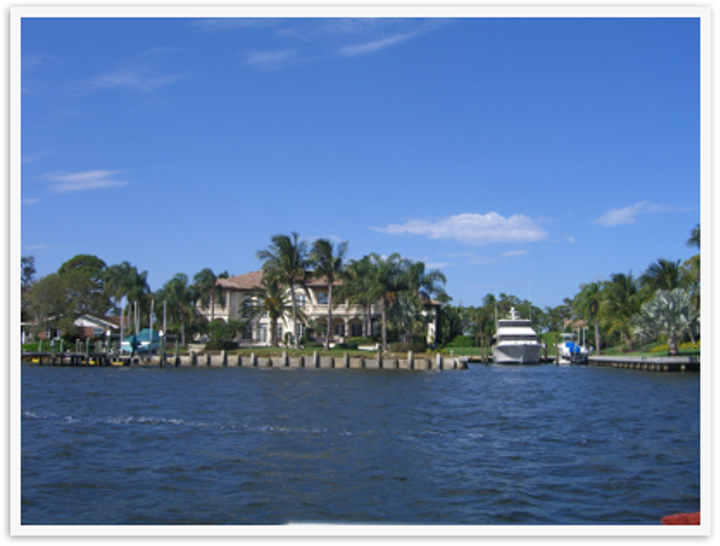 Lighthouse Point to Ft. Pierce.
On Sunday we headed north to the Palm Harbor Marina in West Palm Beach, and immediately encountered great kindness again when the mother of the young woman running the marina offered to drive us to the Norton Museum of Art. We really enjoyed the Norton, which was featuring three marvelous exhibits: a major collection of Georgia O'Keeffe's paintings, twelve impressionist masterpieces from the Clark Art Institute in Williamstown, MA, and a stunning display of dresses and jewelry owned (and worn) by Iris Apfel. After enjoying these and the permanent collections of the museum, we walked across the bridge into Palm Beach and visited Whitehall, the winter home of Henry Flagler, a leading figure of Amerca's Gilded Age and the earliest and most important developer of Florida.
The next morning we continued north into the teeth of  a strong north wind, which made the long haul up the Indian River a bumpy ride. Just before Ft. Pierce we passed Bob and Trish Endicott on Pogopelli (we had moored next to them at Moore Haven) and chatted with them on the radio as we bounced by. We finally stopped at the Ft. Pierce City Marina and walked around town. Ft. Pierce seems to be "almost revitalized"; although it boasts delightful murals and miles of beautifully laid brick sidewalks, many of the buildings stand empty. We particularly enjoyed the pink 1920s Arcade Building, which has been beautifully restored and features whimsical murals inside and out. We hope the revitalization continues so that Ft. Pierce can follow in the footsteps of such towns as Stuart. We ended the day dining at the waterside restaurant at the marina before retiring to the boat where, believe it or not, we ran our heater to take away the chill the north wind had brought.