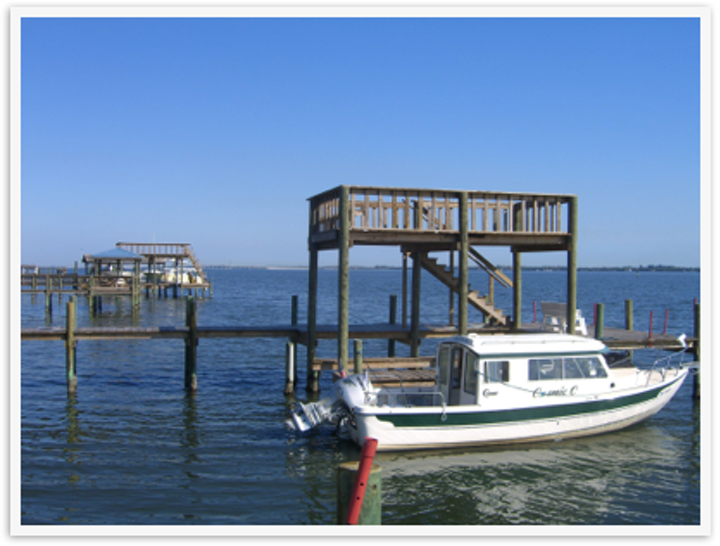 Ft. Pierce to Daytona Beach
On Tuesday we continued north, stopping for the three free hours one is allowed at the Vero Beach Municipal Marina for lunch and a walk on the beach, which was impressively clean. Before leaving we visited the Vero Beach Art Museum and enjoyed the delightful kinetic sculpture of George Rickey both indoors and in the garden. That night we moored near Melbourne, Florida at the dock of Ed, a neighbor of Carl Woughter and Anne Nichols. Carl used to own the island next to ours on the St. Lawrence river (he actually owned ours too in the distant past), and once again it was great to see old river friends in their winter habitat. We stayed two nights and rented a car on Wednesday to tour the Kennedy Space Center. 
On Thursday we cruised to the Halifax River Yacht Club in Daytona Beach, where Dock Master Brian Fitzpatrick managed to squeeze us in. Brian gave us a royal welcome, with a grand tour of the new club house and lots of advice on where to go in town. He also warned us that, because it was Bike Week in Daytona, the town was overflowing with motorcycles and riders. This was a major understatement; never before had we seen so many motorcycles (or tattoos, leather pants, etc.). We were later told that Daytona and the surrounding area hosted nearly a million bikers that weekend. They whizzed by in all shapes, colors, sizes, and designs (riders as well as bikes), day and night creating a constant background noise. Talk about rolling thunder!
That night we dined at the club's restaurant and were surprised to see Sue and Pete Wheeler, friends from our Chippewa Yacht Club on the St Lawrence. Yet another "it's a small world" experience. After dinner we stood on the dock to watch the launch of a Saturn V rocket putting several satellites into orbit. Even from as far away as Daytona the sight was impressive.
Mary needed a quiet work day on the boat, so I rented a car on Friday and drove out to Daytona USA, the big NASCAR exhibit at the Daytona International Speedway. Bike Week includes motorcycle races at the speedway, and the bikers had taken over the entire facility. Motorcycles and interesting characters everywhere, amidst a sea of shining chrome and stands promoting motorcycle builders, customizers, and accessory suppliers, yet all very orderly and friendly. In the afternoon I fought the traffic (motorcycles) back to town and drove on the historic (to U.S. auto racing enthusiasts) sands of Daytona Beach.
In the evening we joined Don and Clarissa Chester, to whom the Wheelers had introduced us the previous evening, for drinks and dinner at the club. The Chesters have recently built a house on Wellesley Island on the St Lawrence - yet another Florida/St Lawrence connection. Back on the Cosmic C we were watching an episode of "24" when there was a loud banging on our cabin roof. The owners of the slip Brian had put us in had unexpectedly returned, so we had to make a quick move to another empty slip. Someone called Brian, who came rushing over from his home to apologize, but we were certainly not put out. We loved the yacht club and would have gladly moored at their service dock without power if necessary. 
As we headed north towards St. Augustine the next morning we passed close by the Chester's Florida house, and there was Don to wave us on our way.