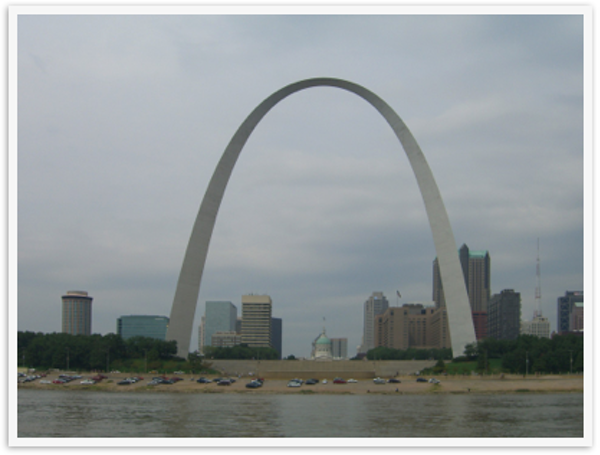 We Reach the Mississippi
After a pleasant stop at Peoria, we meandered down the Illinois towards the Mississippi, reaching the last Illinois lock at 4:30 p.m. When we asked how long before we could enter, the reply was a garbled transmission with only "4 to 5" audible. The gates started opening immediately and we thought "Ah, 4 to 5 minutes. Great!" But the traffic light remained red, and after 20 minutes or so we realized that the 15-barge tow we had passed at anchor a mile earlier was now moving toward the lock, with another one close behind. The lock keeper had probably meant 4 to 5 HOURS.  So we turned around, found a tiny channel leading from the river to a small lake, and settled in for a beautiful evening on the hook.
The next day, after stopping for a catfish lunch at the old Reubel Hotel in Grafton, we arrived at the Alton Marina just above St Louis. Wayne Roberts, another looper at the marina who had just been reading one of our posts on the web as we cruised in, joined us on board for drinks and story swaps. We were also soon joined by Susan Blaine (Mary's MU friend) and Bill Hayes before heading for dinner in lively Alton. The next day Susan and Bill took us to the airport for a quick (24-hour) trip to Kansas City to visit Mary's family in Platte City, especially her 94-year-old mother, Jerry Swaney, and the newest addition, 2 month-old Lincoln Stueve.  Back in St Louis, Susan and Bill took us to see the Arch, the old Court House, their under-renovation creek house, and their lovely condo in Clayton, where we also dined. Thanks so much for all your help and hospitality!
Last night (Monday) we stopped at a lock wall on the Kaskasia river just off the Mississippi, and enjoyed talking with fellow loopers Della and Floyd, who live on their delightful home-made boat "Freddy Freddy" and are now headed for Texas.