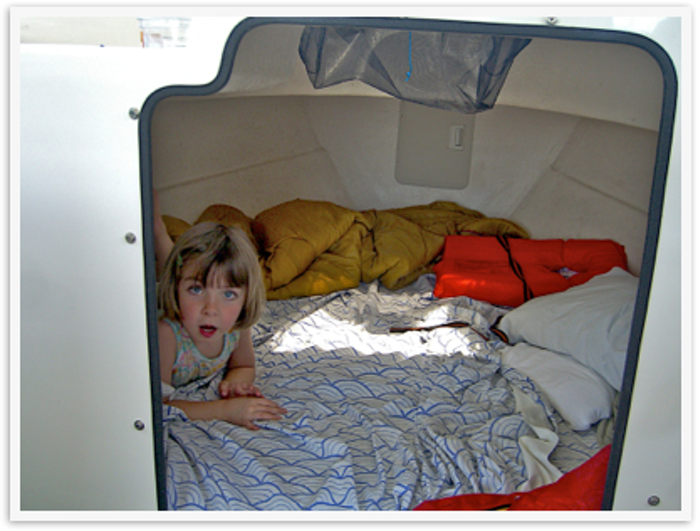 New York City to Waterford, NY
On Tuesday Ellen and Jules came aboard to cruise up the Hudson River with us for the next two days. Our first stop was to show Jules the little red lighthouse beneath the George Washington Bridge. Most people are surprised at how beautiful the Hudson River is, and Ellen was no exception as we cruised past West Point and interesting Polypel Island with its beautiful castle ruin, to stop at the Hyde Park Marina. Here we had intended to get gas and take a taxi ride for a late lunch at the nearby Culinary Institute of America, as Mary and I had done on a previous trip. On that trip we had returned to the C to be told that there was a tornado warning issued for the area, and we were later caught in a huge and frightening thunderstorm a few miles up river. What a coincidence then to be again told that there was a tornado warning, with again the chance of severe thunderstorms. This time we decided that discretion was the better part of valor, that the Cosmic C would be much too exposed if left at the fuel dock for two hours, and that we were better off heading directly up to the safety of Kingston.
So instead of a late lunch at the CIA, we had an early supper at the Ship to Shore restaurant in Kingston, and were tucked up in the C when the thunderstorms and rain finally came.
On Wednesday we cruised up to Albany, where we stopped at the town dock and had a tasty lunch at Jack's before taking Ellen and Jules to the train station for their ride back to New York City. Mary and I cruised on up to Waterford, where we took the last remaining space at the town's free dock. Again, it pays to be small. A tug, the 8C, had accompanied us through the Troy Lock, and we later met it's owner, Richard Powell, who also rents reproduction English canal boats for cruising on the Erie Canal. He invited us to explore one of the two canal boats moored at Waterford. It was shorter and considerably wider than the English canal long boat (65 ft long, 7 feet wide) we had seen in Clewiston, FL, and would be a fun way for two couples or a family to experience the Erie Canal.