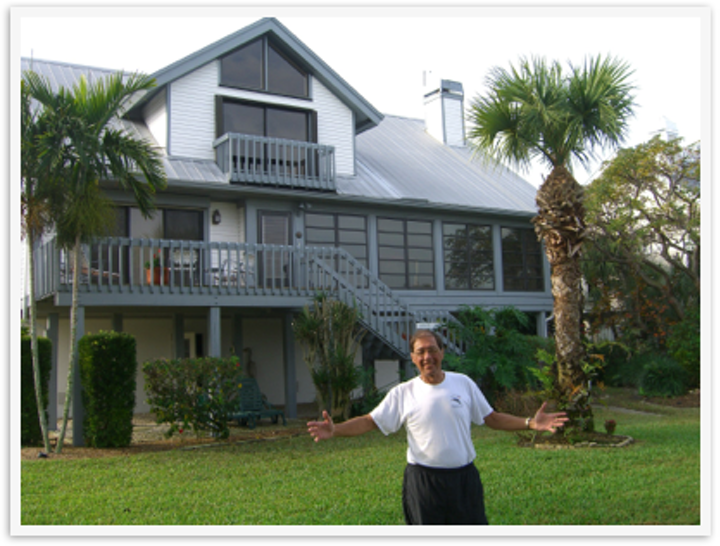 Cape Coral to Lake Okeechobee
Len Sussman met us at the airport when we arrived back in Ft Myers on Friday, February 23 and drove us back to the Cosmic C at his dock in Cape Coral. Earlier in the day we had called him from Philadelphia to relate our stupidity in leaving the key to the boat cabin at home and ask him to find a locksmith to open the door. This he cheerfully did, as well as driving us to the supermarket for supplies the next morning. Len, we really appreciate the good care you took of our boat and your many kind favors.
On Saturday, February 24, we cruised the short 20 miles to Sanibel, where we had visited years ago, when the children were young. We docked at the home of our friend Bart Smith, who lives on a quiet canal lined with mangroves and well-groomed homes. Later in the evening, after a delicious dinner of pasta and shrimp, we were reintroduced to his good friend Lee Tauck as the wine and funny stories kept flowing.  The next day we borrowed bicycles from Bart and spent several delightful hours exploring the many bike paths on Sanibel. It's a beautiful island, thanks to the care taken to control development and maintain as much as possible of the original environment and flavor of the island (although the traffic on Periwinkle Way could be vicious at times.) That evening, we joined Bart and Lee at a fine performance by the Southwest Florida Symphony, highlighted by soprano Mary Wilson singing the Handel Gloria.  Wilson's performance was awesome, bringing the audience to our feet in loud appreciation of her virtuosity. Our delightful visit with Bart and Lee ended the next morning with breakfast at Jerry's. Thank you both so much for your great hospitality. Bart, we hope your bicycle wounds have heeled. Lee, we hope that you stay away from those questionable shops in Ft. Meyers. And, both of you, we hope to see you on our turf (or waterways) in the not-so-distant future.
Leaving Sanibel, we set off to cross Florida on the Okeechobee Waterway. The day was overcast, but we had a pleasant cruise up the Caloosahatchee River, stopping to visit LaBelle (which would be a nice little town if it weren't for the heavy car and truck traffic on main street), and finally stopping for the night at Moore Haven. As we approached, we noticed huge columns of smoke on the horizon and soon learned that the Corps of Engineers was doing a "controlled burn" of the lake grasses around the shore of Lake Okeechobee. Chatting with other boaters (Arnold and Wendy on their beautiful Nauticat Eroica and loopers Bob and Trish, Larry and Trudy, Paul, and Ned on an assortment of sailboats) moored at the town dock, we learned that the fires had been burning for two days already. That evening, as the orange glow of flames only a mile or two away intensified (see our short movie), we began to wonder how "controlled" the situation was and whether we would be able to proceed in the morning.